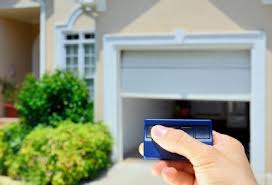 Depend on our quick service whether you want to replace or repair your garage door remote clicker in The Woodlands, Texas. Lost the Genie remote? Want to reprogram your Craftsman clicker? We provide timely remote clicker repair services whether you have bought your remote from Sears or it is a model by Chamberlain. At Garage Door Repair The Woodlands, we service all brands and remote types. Is it a universal remote? Do you want assistance with a multicode clicker? Our experts have the skills and experience to cover all service needs and fix any brand.
Ready to replace your garage door remote. Call us
Call us the minute your garage door clicker is lost. The sooner we help you erase its code the better for your security. In the case of stolen, broken, and lost remotes, we respond urgently. Our job is to provide you with a new clicker and program it according to the instructions of the manufacturer. Since we are experts in all brands and updated with their latest models, we can replace and program any garage door remote.
To make sure your needs are covered fast and fully, we always have numerous clickers in our trucks. The idea is to find the perfect garage door remote replacement for the existing opener. After checking the opener and talking with you to discover your requirements, our tech will suggest the clickers that will work well with your electric system.
We cover garage door clicker repair needs
Problems with the garage door opener remote in The Woodlands? We come quickly to examine the clicker and its mechanism. An easy fix would be to replace the battery. But not all problems have such easy solutions. We often have to check the opener too and possibly fix the antenna or a problem with the reverse system. Since such parts are very important, it's best to leave them to us. Our pros provide quick repair services and will fix your garage door remote clicker in The Woodlands very quickly. Place a call on us if you need our assistance.