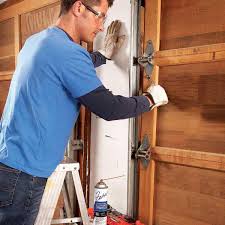 Whether you want residential, industrial, or commercial garage door installation in The Woodlands in Texas, count on our expert service. We have specialists for such heavy duty jobs and will also provide you with the new door. Would you prefer a rolling shutter for your business? Looking for a standard residential overhead door? No matter what you need, Garage Door Repair The Woodlands can offer you with many options among the best brands in the world.
And we don't only provide you with the new overhead or rolling door for your property in The Woodlands. Our techs will also help you decide because selecting the right material, opener, size, and spring system is far from easy. So there is a lot going on before the actual new garage door installation. Let's take things from the beginning.
The process before garage door installation
Since it's vital for you to have the right type and size door at your home or business, we devote time to help you out.
Our pros come to offer you solutions, explain the differences among new age doors, measure your garage, and provide you with estimates.
Once you make up your mind, we can provide you with the new door.
We set a date for the installation of your new steel or wood garage doors.
Our techs arrive to remove the existing door and both assemble and install the new one.
We install all commercial and residential garage doors
Which doors we install? All of them! Whether you want a new rolling aluminum garage door for your business or a wood overhead door for your home, we have the experience to install both types and materials. From aluminum/glass combinations and wind load doors to rolling shutters, Craftsman garage doors, and wood options, our techs have the qualifications to install all doors and connect the opener of your choice.
What we try to do is assist you to find the ideal door, which will provide security, operate with safety, and offer convenience. And we ensure such things with expert work too. So if you need real pros covering The Woodland garage door installation requirements of your house or business, contact us.